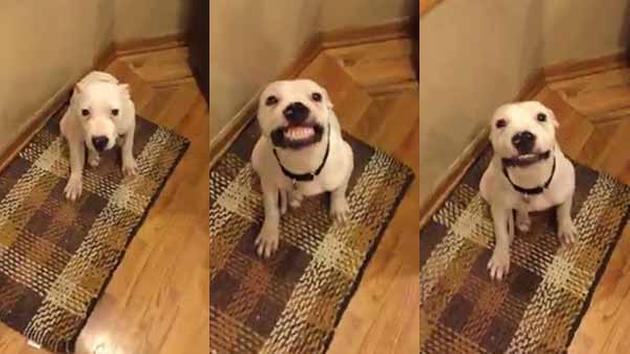 CHICAG
O — Herbert the 5-month-old American Staffordshire mix may currently be in foster care recovering from the flu but that hasn't stopped him from smiling and winning the hearts of many online. The puppy was rescued by an organization called PAWS from a city pound, when he was immediately placed in foster care to get over the dog flu he had acquired at the pound. 
Spokesperson for PAWS, Sarah McDonald revealed that the now popular pup had to be placed in solitary, foster care away from other dogs while he recovers, as the flu is very contagious. Although he isn't up for adoption yet, he will be soon and there are sure to be many parties interested in Herbert after a video of him smiling went viral.
In the video posted online by Herbert's foster mom, she can be heard saying, "say cheese," which immediately prompts the pup to offer a wide smile at the camera. The adorable video has been making its rounds online and has been viewed over  300, 000 times. Check out the charismatic Herbert in the clip below and be sure to share with loved ones to put a smile on their face!
References
Please play our new game where you can vote on your favourite dogs – 
Fetchy
!