Fall is a wonderful and colourful time of year! Here are some fun things you can do with you dog to enjoy the season!
1. Apple Orchard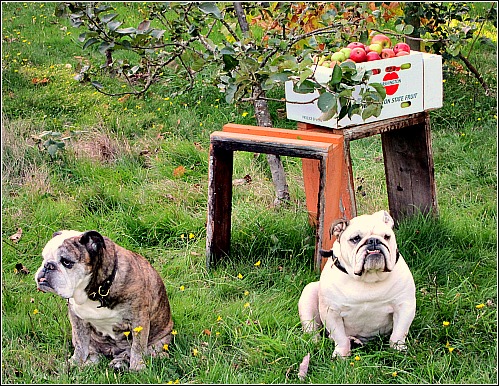 A walk through the apple orchard is always a pleasant thing, so bring your canine companion! Just be careful to not let them eat the core of the apples as seeds can cause tummy troubles!
2. Leaves In The Park
Head to a forested dog park and pile up the leaves! You can do this in your backyard if you leave in the right climate!
3. Hayride
 
Grab your leashed dog and get to a farm for a fall time hay ride!
4. Pumpkin Patch
Let your pup help pick out your pumpkin! Did you know that a bit of pumpkin is good for your dogs digestive system? It is!
5. Halloween Party
No, not your own Halloween party – a dog one! Many rescues hold different Halloween parties to celebrate and raise some money for homeless dogs.
6. Ghost Walk
Lots of local ghost walks let your take your dog along for the adventure!
7. Volunteer
Consider getting your dog certified to become a therapy dog for kids, special needs people or seniors!
References
2. Scatterbeams
4. Blogspot
5. Deal Wagger
7. Oregon Live