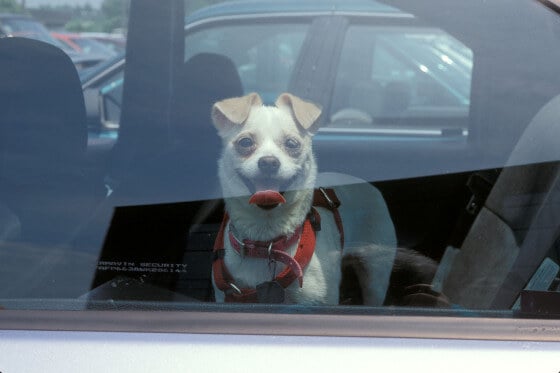 VANCOUVER, British Columbia — Despite the enforcement of new laws across Canada to protect dogs from being left in hot cars, the issue has only grown worse. Reports released by authorities in British Columbia show an 80 percent increase in cases over the last month alone. According to authorities, more often than not, it seems to be a matter of convenience where people do not realize the magnitude of leaving their dog behind. Many individuals, who have been caught with their dog in the car, have expressed that they were only leaving the dog for a couple of minutes. What they don't know is that even that can prove to be fatal.
Annie Prittie Bell who works at the Victoria Branch of the BC SPCA, reveals that it only takes ten minutes for organs to start shutting down in the heat — an alarmingly fast rate that most individuals aren't even aware of. Bell stresses that dogs heat up so quickly that even a mild day outside could prove lethal to a dog inside of the car.
Victoria Animal Control ran a test to show just how hot it can get inside of a car when it is left in the sunshine. During the experiment the outside temperature was 25 degrees Celsius but inside of the van the temperature had risen to an astounding 66 degrees Celsius. Officials warn that a temperature that high is on most people's oven's just to put things into perspective for the average dog owner. So the next time you think about leaving your dog in the car here are some things to keep in mind.
Temperatures inside of a car rise with time. In just 20 minutes, 26 degrees Celsius grows to 46 degrees Celsius.

A study found that cracking the windows has very little effect on the temperature rise inside the vehicle.

Animals can sustain brain damage or even die from heatstroke in just 15 minutes. 

Heatstroke symptoms inc

lude thick saliva, heavy panting, lethargy, lack of appetite, dark tongue, rapid heartbeat, fever, vomiting, bloody diarrhea, and lack of coordination.
Remember if you see a dog in the car contact 911 and in the meantime help spread awareness by reposting the statistics and tagging your pet on social media with the hashtag #NoHotDogs.
Also, you can get a Parking Don't Leave Them Barking bumper sticker here.
Via BCSPCA | PETA | ChekNews | AVMA | ChicagoNow