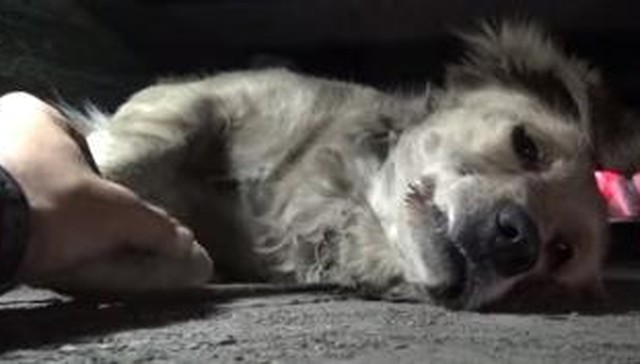 Hope for Paws has done it once again with another inspiring rescue story. The rescue team received a call about a frightened Golden Retriever but had no idea just how paralyzed with fear the dog would be until they arrived at the scene. Clarabelle's background was unclear when Hope for Paws reached her but one thing was for sure — the dog had zero trust in humans.
It took some time to locate Clarabelle and when they finally did, the terrified girl ran and hid from rescuers because of all the commotion. Clarabelle climbed under a dumpster where she would hide until the right loving touch would finally free her from her fear. As the rescuers reached under the dumpster in an attempt to free her, the dog was so scared that she completely froze and even covered her eyes with her paws.
Eventually, though, rescuer Edgar Hagar spent some time gaining Clarabella's trust and once he did, the next time he reached out to her, he was able to get her out. Clarabelle soon realized everyone was just trying to help her and with one hug from one of her rescuers, her whole life changed. Thanks to the Hope For Paws rescue team, the Golden Retriever was brought to safety that fateful day and she now trusts humans. Clarabelle is healthy, happy, and living in her new forever home.
References
1. The Dodo