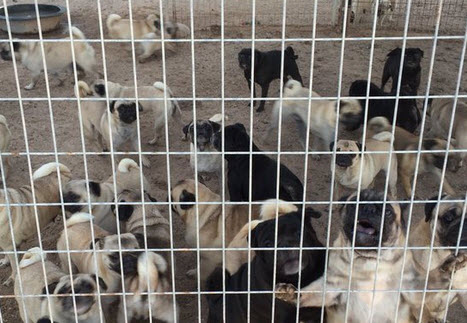 TONOPAH, Az. — Over 100 Pugs and a few French Bulldogs, are almost ready to be placed into their forever homes, after a crackdown on a puppy mill led to their rescue on November 17th. The dogs were rescued by the Maricopa County Sheriff's Office,  from filthy, crowded conditions where they had little access to food or water. The majority of the 129 dogs rescued are pugs, although there were some senior French Bulldogs on the property also.

The dog's were living inside of a 1,200-square-foot home, along with the dog owners. Authorities believe that the individuals responsible for the puppy mill, were kicked out of their Phoenix home three months ago, before moving their illegal operation to the desert. It is possible that the suspects will face up to 100 counts of animal abuse each, for every dog that was neglected at their hands. 
The dogs are currently located at Sheriff Joe Arpaio's no-kill animal shelter called MASH, where they are under veterinary examination and are a part of an inmate care program. The inmates at the prison associated with MASH are caring for the dogs until they are ready for adoption. The Sheriff's office reveals that the dogs are almost ready and that due to the high interest in their well-being an adoption event will soon be held for all of them. If you are interested in learning more about the dogs or applying to adopt  one of them, visit this website.
References