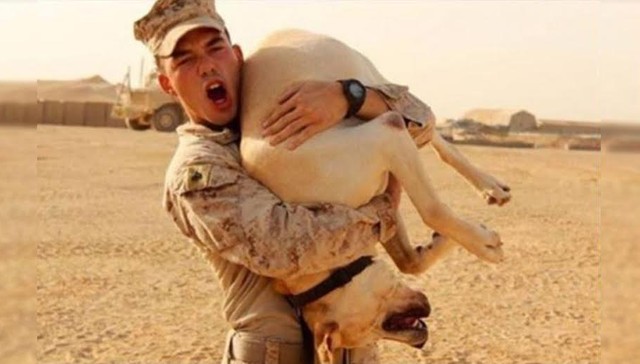 Some bonds are just not meant to be broken, no matter if there is time and distance standing in the way of them. Although many people experience this, it has especially proven to be  true when it comes to the connection between humans and dogs.
When Lance Corporal Andrew Harmon was paired up with a dog named Rebel during his tour in Afghanistan, he never imagined how close the two would become. After spending seven months with one another, the pair grew inseparable as they did everything together.
Eventually when it was time for Harmon to return back to the U.S., he was heartbroken to think that he would have to leave Rebel behind. Seven months after meeting Rebel, Harmon returned to his life in America without his best friend. Yet, he would never stop thinking about the unbreakable bond that he shared for a brief moment in time with Rebel.
Two whole years went by before Harmon would hear about his best friend again. It was just an ordinary day when Harmon received an unexpected call— Rebel was injured and looking for a permanent home in the U.S.. While on duty in Afghanistan, Rebel was injured and sent into early retirement at a woman's home in North Carolina. His new family was unable to afford Rebel's medical bills, which led them to call Harmon. The family asked Harmon to adopt the dog from them and he jumped on the chance. He was thrilled to have a second chance at a life with Rebel.
Rebel joined Harmon's wife and 1-year-old child and has instantly become a staple part of the family. Harmon admits he has had many dogs before but he has never had such a strong connection with any of them. Despite their time and distance apart, the two are as inseparable as ever before.
If you would like to help Rebel's medical cost, head to their GoFundMe page and donate what you can!