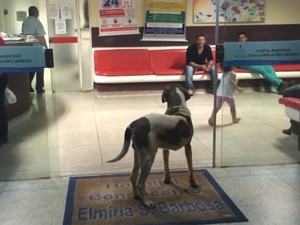 SIDROLANDIA, Brazil — A local hospital just witnessed the ultimate case of devotion after a dog waited for his dying owner outside the hospital doors. The dog's 82-year-old owner was rushed to the hospital last month when the loyal canine managed to track her down despite being left at home. Hospital authorities believe that the dog followed one of the family members from the house to the correct hospital unit.
The dog then proceeded to patiently wait just outside of the hospital doors for a full eight days. Unfortunately, during that time the owner passed away on July 26, but the dog remained there for an additional four days. Hospital staff and visitors were astounded by the dog's unwavering loyalty and many have offered to adopt him.
In the footage showing the dog waiting, it seems as though he is constantly on the lookout for his owner. The dog's patience doesn't falter once and he continues to wait despite there being no sign of her. The director of the hospital, Wanda Camilo, said that it looked just like a scene out of a movie and that one of the doctors has even offered to give him a new home. For now, the dog has been taken in by a local pet store where they are providing him with shelter and care as he mourns his loss. Watch the heartwarming video below.