You never really know what will pique the interest of the entire cyber-web and the latest conundrum, once again proves that it can be virtually anything. Case in point: Individuals all over the internet are trying to determine how a dog would wear pants. Anyone remember the, "what colour is this dress" debate? Well, this dog-pant debate is garnering almost as much attention, as the image below fervernetly circulates online.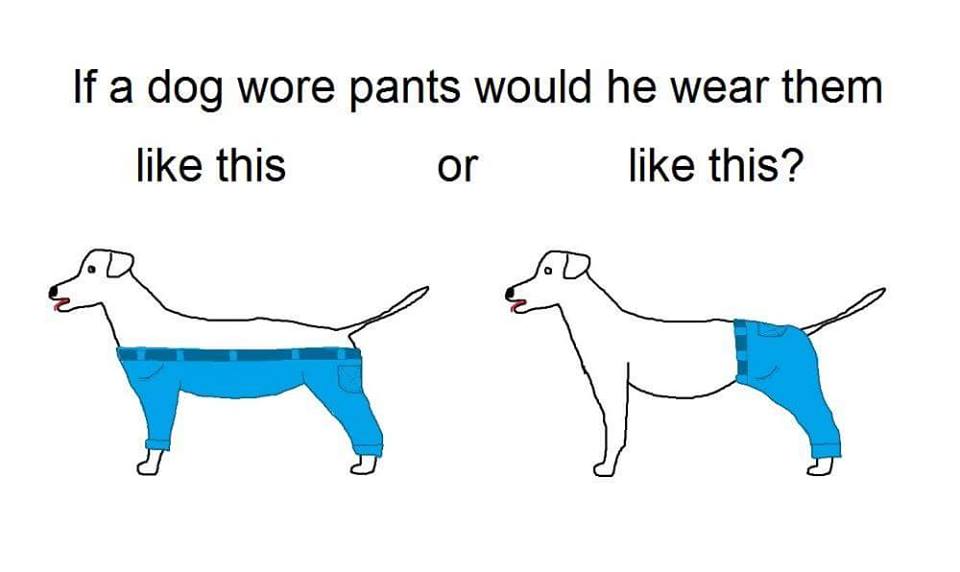 The image above has appeared all over the most popular sites like Reddit, Facebook, Instagram and Twitter, engaging users in arguments and all sorts of conversations attempting to rationalize how dogs would wear pants if given the chance. While some users lean towards the fact that dogs would wear pants on all four legs, the majority of individual's are claiming dogs would only wear pants that cover their hind legs.
Maxim Magazine's Deputy Editor, Jared Keller, conducted a poll on twitter, which proved that 81% of participants believe that dogs would wear pants on two legs, while 19% believe they would wear pants on all fours. However, one individual on Reddit may have finally put the debate to end with his rationale thoughts on the matter. The unknown individual stated that, "Well pants are a human invention so if they were to wear them like humans it would be like the ones on the right. However, if dogs invented dog pants it would be like the ones on the left, leaving the a–hole freely available for greetings and ice breakers." How do you think a dog would wear pants? Let us know in the comments below. 
References
Via HuffingtonPost|TIME|
Please play our new game where you can vote on your favourite dogs – Fetchy!