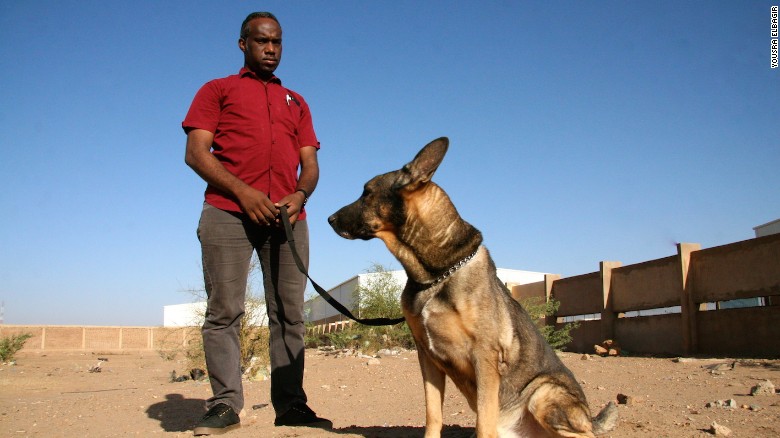 KARTHOUM, Sudan — A program created in 2008 by Dr. Muiz Ali Taha, has seen the effective use of canines in detecting dangerous landmines across Sudanese land. After graduating as a veterinarian and receiving a job in the communications department of the UN Mine Action office, Dr. Muiz quickly realized that dogs could be an effective way of clearing the often-deadly landmines. Prior to the official start of the program, Dr. Muiz traveled to South Africa in 2006 to import qualified canines. Having been a dog trainer himself since he was fourteen years old, he knew exactly what to look for in a good candidate.
Once the dogs have been imported to Sudan, they are trained in the army base at Al-Elafoon. Upon completion of the training, the dogs who were purchased for $3,000 are now worth $40,000. During training, the dogs are walked through fifty zoned off areas containing boxes with a variety of mines inside. Some of the boxes have detonated mines, while the other half are left empty to ensure that the dogs are properly trained to recognize which mines are dangerous. Some dogs are ready for the field as early as 6-months-old depending on how well they respond to training.
Dogs who are ready for the field, go out with their handler and search for landmines by sniffing the designated areas. As soon as the dog detects a landmine it sits down and the dog's handler then places a red flag on the marked spot. The dogs are so well trained that some of them can clear an area of 1,200 square meters in two hours. Landmines are a widespread problem in Sudan, and some of them date back as far as World War II. From 2011 to 2015, the program started by Muiz has seen the dogs and their handlers work on 8 different projects. There are currently 235 locations in the country that are affected by landmines and they are responsible for the deaths of over 2,000 people since 2002.
References
Via CNN|UNMultimedia|