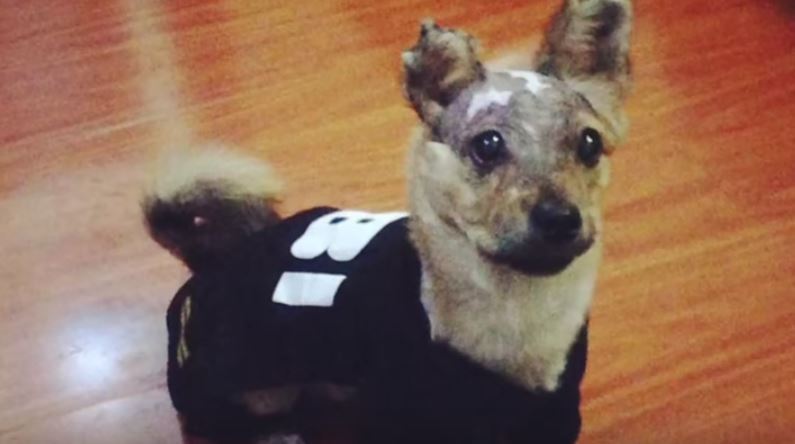 CHENGDU, China — Some people are just not meant to have pets and that's certainly the case for one individual, who threw boiling water onto his puppy and then tossed him from a 4th-floor balcony, all because the dog chewed on his cell phone. The puppy was just 6-weeks-old when this cruel punishment for such a menial act would see him fighting for his life. Although it is common for abandoned, injured animals to go unnoticed by passersby, this particular puppy was fortunate enough for a miracle, when one lady spotted him who would ensure that he survive.
A woman by the name Yan Yingying, immediately rushed the dog, who she named Tuffy, to a veterinary clinic where he would get the medical attention he so desperately needed. Tuffy's tiny body was covered in blisters from the scolding water and he was visibly in pain when Yingying brought him to the clinic. He wasn't even able to close his eyes to sleep because they were so badly burnt. However, after a bout of around the clock injections to heal his burnt body and a group of specialists working to repair his skin, Tuffy began on the road to recovery. Yingying drove Tuffy an hour from Chengdu to give him the care he needed as the local veterinarian wasn't enough. She took him to Animals Asia for care and one surgeon even flew in from Hong Kong, to graft skin from Tuffy's scrotum and cover the areas on his body that had been burnt – the scrotum was the only area that wasn't affected by the burn.
Soon the whole community was starting to rally around Tuffy, with strangers even donating to his recovery and Animals Asia donating his nursing care. Although Yingying had covered a lot of the initial medical expenses herself, in order to see this little pup get the chance at life that he deserved. Fortunately, Tuffy proved to be a fighter and he got his happy ending, as he is now recovered and living in his forever home with his guardian angel, Yan Yingying.
(Warning: Video contains graphic images)
"The cruelty he faced was inexcusable, but he refused to be beaten, and that strength was infectious," Robinson recalled. "Tuffy has more passion for life than any animal, or person, I have ever met. Nothing can keep him down. He is boisterous and full of play. To say Tuffy is a fighter is an understatement."
References
Via TheDodo|AnimalsAsia|