WARNING: Disturbing Image.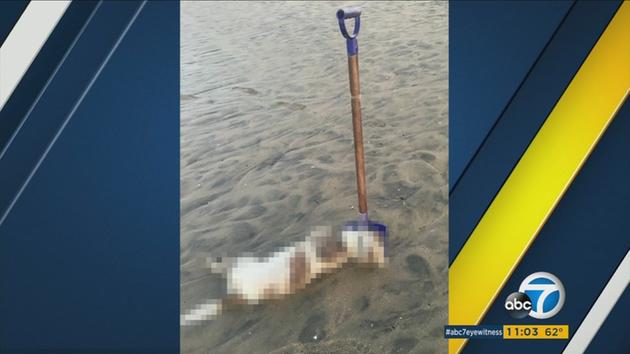 MARINA DEL REY, Calif. — Authorities are investigating a disturbing case of animal cruelty, after a group of canoers found a dead dog on Mother's beach. The dog was found tied to a shovel that was sticking out of the water close to the shoreline. The canoers first spotted the shovel, before approaching it and realizing a dog's body was attached to it. 
Authorities have revealed that it appears the dog had drowned as the shovel was buried deep in the sand and it was likely the dog couldn't get away as the tide came in. The canoers that discovered the pup, were part of a canoe paddling practice group when they came across this heart wrenching sight.
One of the canoers, Malia Zimmerman took to Facebook to share her thoughts on the matter as the photo of the dog began to circulate online. Zimmerman said: "Sometimes people can be extraordinarily cruel. At the end of our early morning paddling practice, we found this puppy had been drowned after someone tied the puppy to this shovel, and jammed him down into the sand under the marina water." The Los Angeles County Animal Control and the Los Angeles County Sheriff's Department are currently investigating the incident and say that the dog had an identification tag on. They have yet to determine who was responsible and are urging the public to call the Sheriff's department at, (310) 582-6000, if they have any information. 
References