This kitten may have just used up one of his nine lives as he narrowly avoided becoming a hawk's dinner. The five-week-old kitten was playing outside with its mama cat when a hawk swooped in and picked him up. The hawk flew over to a neighbour's basketball hoop where it sat perched with the terrified kitten in its grasp.
Lindsey Gage and her 6-year-old daughter bore witness to the whole incident as they were on their way to the grocery store when the hawk caught their attention. They could see the mother cat hissing from the ground trying to get her baby back, when the hawk took flight.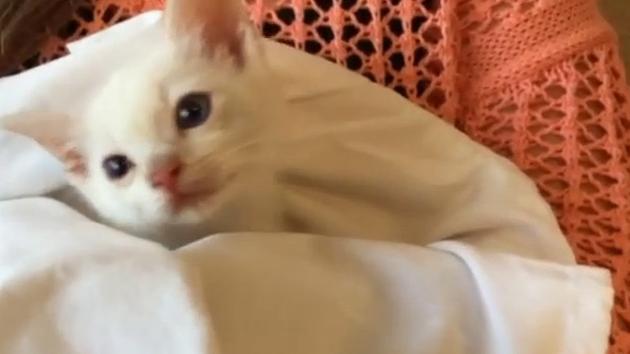 Fortunately, before long the hawk lost its grip and dropped the kitten to the ground, who fell nearly 12-15 feet before landing safely. Lindsey Gage says she immediately ran over to the tiny white fur-ball who was meowing from fright. She didn't waste any time getting the kitten to an animal shelter where he was treated for a wound on his chest. According to animal services, the kitten will be just fine.
References
1. LA Times