PARLIER, Calif. — Self-proclaimed "eccentric cat lady," Lynea Lattanzio has certainly set a new standard for cat lovers, by saving over  24,000 cats in the 24 years that her rescue organization has been operating. Lattanzio founded, Cats House on the Kings, in 1992, creating California's  largest no-cage, no kill sanctuary for abandoned and feral cats within her very own home.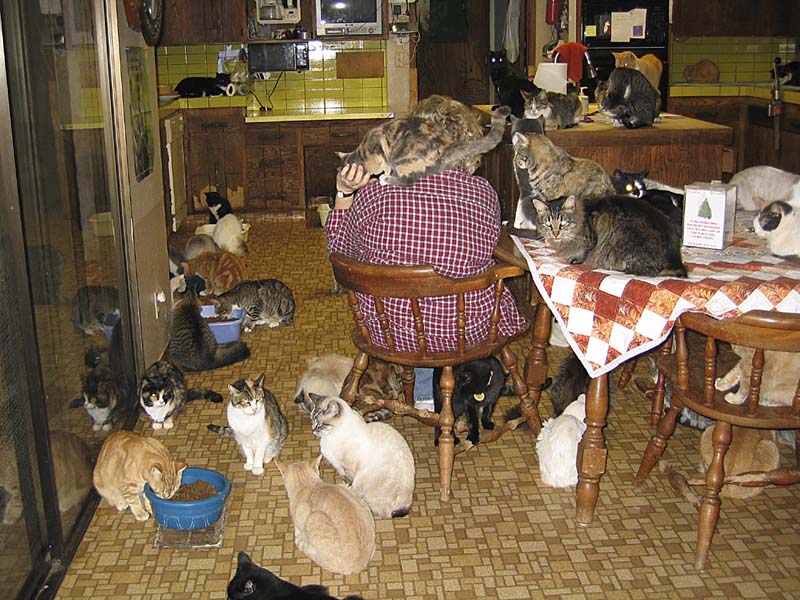 Sixty-seven-year old Lattanzio houses all of the cats within the 4,200 square foot home she had initially purchased for herself, but now allows the animals to roam freely among it while she lives in a trailer by its side. The organization has a team of volunteers that care for the cats, and sometimes dogs, that reside within the property. She currently estimates that she has 800 adult cats and 300 kittens in her home, 500 of which are ready to be adopted.
Since the sanctuary doors opened, Lattanzio and her team of volunteers have saved over 24,000 cats, 7000 dogs and have spayed and neutered 40,000 other animals. Lattanzio reveals that all of the animals are well taken care of and that she herself became a vet technician to lower medical costs but that she also has a veterinarian that comes by weekly. The woman's house is entirely cat friendly now with an indoor, 'kitty garden' to help indoor cats adapt to the outdoors, an enclosed outdoor area, a wood stove oven to keep them warm, accessible food and water, and beds and benches for the cats to sleep on. The organization is non-government funded and relies entirely on donations. To learn more visit, Cat House on the Kings website here.
References