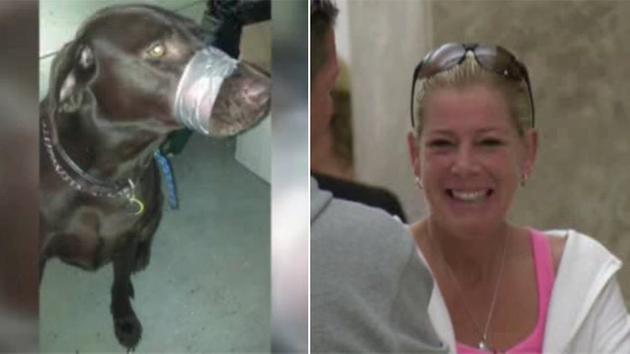 CARY, N.C. — On November 27, 2015, Katherine Lamansky (who also goes by Katie Brown) posted a photo of her dog on Facebook that landed her in jail. The photo depicted her chocolate Labrador with its mouth taped shut and a caption underneath it, which read:  "This is what happens when you dont shut up!!!" Followed by another caption saying, "Don't panic everyone it was only for a minute but hasn't barked since… POINT MADE!!!"
At the time, Lamansky claimed that it was a joke, yet despite her assurances the online community was outraged by the post and shared the image over 400,00 times. Many people also called the police, which eventually led to the woman's arrest. The woman was facing charges of animal cruelty and appeared in court last Friday where she was found guilty. Yet despite the verdict, the judge suspended the 60-day jail sentence she was given and waived the year of supervised probation that was initially assigned to her.
While Lamansky did admit to taping her dogs mouth shut, a physical inspection of the dog revealed that she was well-cared for. Due to the nature of the incident and that the dog showed no other signs of abuse, Lamanksy was able to keep the dog. At the end of the day, the judge let Lamansky off with a warning to never repeat the same mistake again. What are your thoughts on the trial outcome?
References