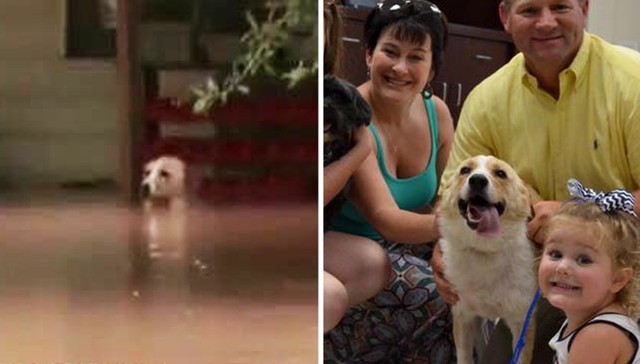 FORT BEND, Tex. — Sheriff Troy E. Nehls was assessing an area for flood damage last Tuesday, when he was shocked to discover a dog that had seemingly been left for dead. The Border Collie mix was chained up to the front porch, up to her neck in water and with no sign of anyone coming to rescue her. The Sheriff instantly detached the dog from her chains and brought her onto his boat, before taking her to the Houston Humane Society.
After dropping the dog off, Sheriff Nehls decided that he would return on Sunday to visit the two-year-old dog along with his family. Yet, when he returned on Sunday he realized that he could not bare to part with her again and decided to make it official- Nehls and his family adopted the dog named Archer. After the adoption, Nehls announced the good news on Facebook with this post, "'I am happy to say the only water this girl will be in now is the swimming pool in my backyard!"
Archer went home with the Nehls family that same day and the shelter reveals that, "It was love at first sight for everyone." While Archer is settling in perfectly with her new family, the Sheriff is still outraged by the people that would leave their dog for dead like that. He says that once the resident's return he will no doubt be having a word with them. As for Archer, after many baths and flea treatments she is now healthy and happy!
References