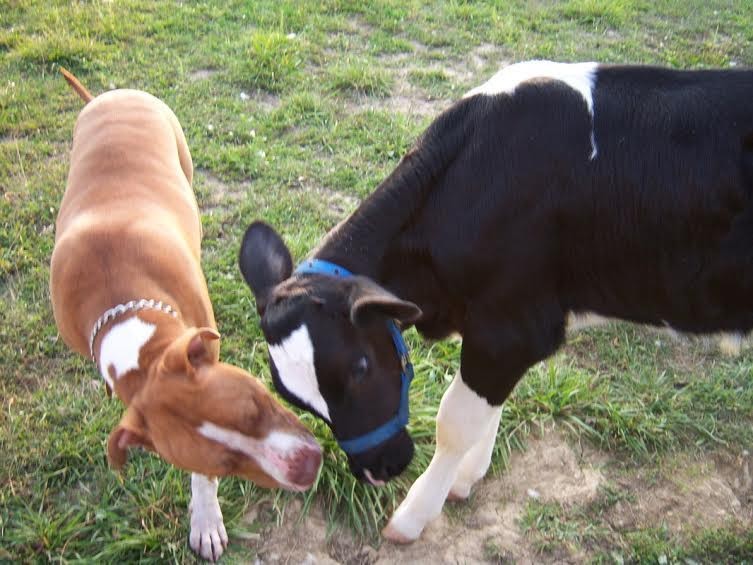 MARYVILLE, Ohio — The Sunrise Sanctuary provides a loving home to over 170 animals who have all formed a special bond. Yet, one of the friendships that particularly stands out, is between a 3000-pound cow and a 9-year-old Pit Bull mix. In November 2009, the sanctuary founder, Mindy Mallet, was trying to rescue two turkeys from a farm when she came across a sweet calf also in need of her help. The calf named Wesley, had a pretty certain fate when Mallet convinced the farmer to let her take Wesley home with her. 
Upon arrival at the sanctuary, Wesley fit right in and took a particular liking to a Pit Bull mix named Chance. Chance also happened to be rescued at a young age and the pair quickly became the best of friends. Even as Wesley grew in size from a small calf to a 6 ft 4 cow, the two still remained close and to this day they have a very close relationship.
While Chance was rescued from an owner who kept him locked up in a bathroom 24/7 and Wesley was rescued from a farmer who no doubt would have sold him for meat, the two bonded over being taken from their mothers at a young age. Despite their differences the duo take comfort in one another and are both very popular among the Sunrise Sanctuary community. To learn more about the pairs special relationship watch the video below and if you would like to donate to Sunrise Sanctuary visit this link.
References