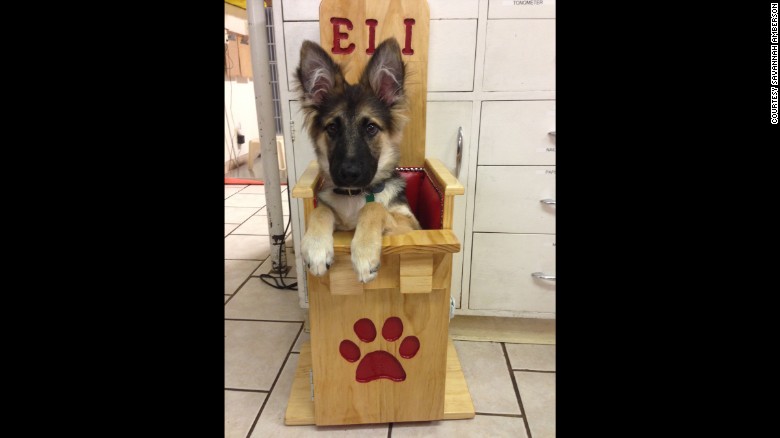 BOISE, Idaho — A German Shepherd suffering from a digestive disorder is thriving, thanks to a creative solution by the team at the Ada Animal Hospital. The puppy, named Eli, first arrived at the hospital at just five days old when veterinarians noticed that he was half the size of the rest of his litter. Eli was severely malnourished and after many attempts to feed him, an x-ray revealed that his esophagus was malfunctioning. The dog was suffering from a "vascular ring anomaly," which results in the esophagus becoming enlarged and "relatively useless."  
The veterinarians performed multiple surgeries to try and resolve the issue but with no luck. So they had to get innovative if Eli were to survive. The team decided to make a special chair, inspired by the Bailey Chair, to help Eli digest his food. The office manager's brother built the chair and Eli was soon able to eat. 
Ada hospital vet technician Savannah Amberson reveals, "The chair allows Eli to remain in a vertical position, relieving the esophagus of doing so much work to get food into his stomach. Gravity pulls the food to the stomach." Using this method, Eli has gained 30-pounds within three weeks, and he's expected to be able to live a normal life in the future. As if it can't get any better than that, Amberson has also adopted Eli. The vet technician never gave up on him, and now the two have become a family. 
References