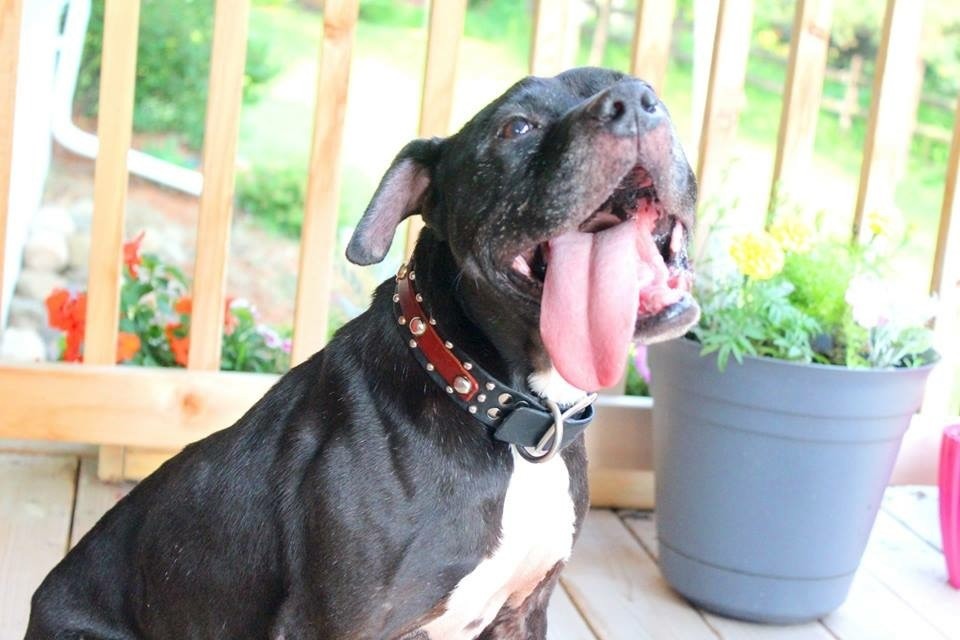 ST PAUL, Minn. — On August 23rd 2013, the Alabama Police Department along with the ASPCA and Humane Society of the United States rescued 367 dogs from an illegal dogfighting operation. It was the second largest dogfighting operation to be unearthed in U.S. history. From internal parasites, nutrient deficiencies, dehydration and a number of physical injuries, all of the dogs were in dire need of assistance. Evan the Pit Bull was one of the dogs rescued on that fateful day and thanks to the ASPCA and HSUS he would receive a second chance. 
Evan was brought to the Twin Cities Pet Rescue shelter where the signs of abuse were apparent as he would cower at the back of his kennel and be aggravated by the presence of any other dog. He also had a mouth full of infected teeth that needed extraction and was suffering from skin allergies. Yet that didn't stop foster parents Mandy and Kevin Malecek, and later Charlie Stephenson, from stepping in and offering Evan a safe place to rehabilitate.
Stephenson revealed that, "Evan is living proof that dogs from a fighting background can and should be given a chance to be rehabilitated." Under Stephenson's roof, Evans skin condition improved with regular baths and proper nutrition and his personality also began to shine through. Over time Evan bonded with Stephenson's other Pit Bull Emmett and Dachshund Penelope, and even learned proper behaviour by mimicking Emmett. The once frightened pooch flourished under these new conditions and now three years later, the Maleceks and the Stephenson share custody of Evan as he thrives in both homes. Evan is still searching for a forever home but for now he is loving being a part of two wonderful families that helped transform into the confident and happy dog he is today. 
References