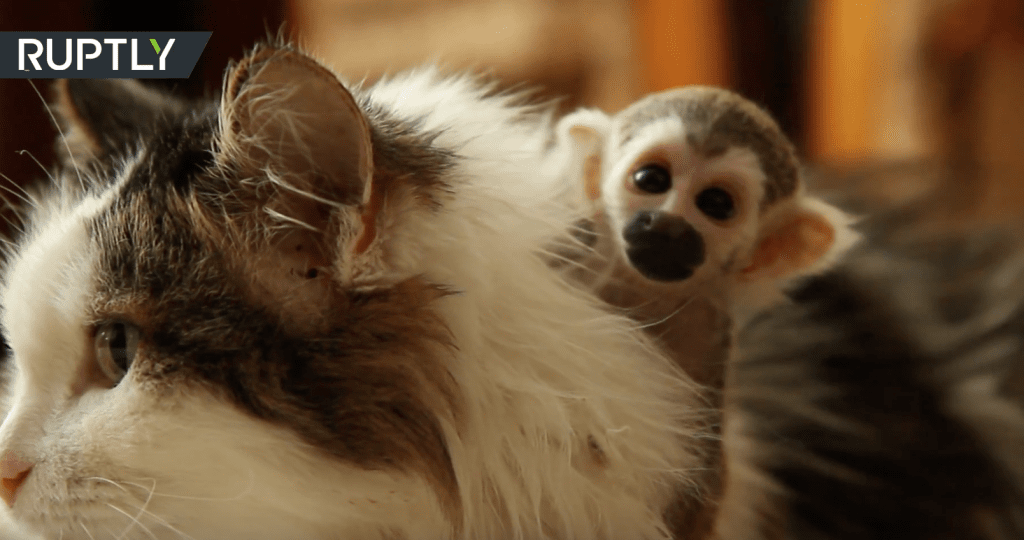 TYUMEN, Russia — A nurturing feline has adopted a Squirrel Monkey after her parents rejected her at a Siberian zoo. Following the rejection, zoo director, Tatiana Antropova, decided to bring the Squirrel Monkey home with her to give her a second chance at survival.  
Antropova started to bottle feed the monkey and introduced her to her cat to see if the two could form a bond. Fortunately, the monkey found immediately bonded with the cat, and the two are now inseparable. In a video posted to youtube, the animal can be seen clinging to the cats back, as she walks around the home.
The squirrel monkey will spend the next four months with her foster mom and Antropova, before returning to the zoo. Once fully grown the monkey will be between 1.5-2.5 pounds and about one foot in length. Watch the sweet interaction between the Squirrel Monkey and the cat in the video above. 
References 
Via LifeWithCats|Youtube|