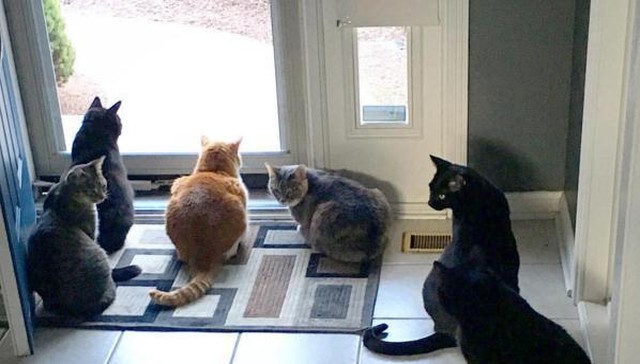 Move over crazy cat ladies, there's a new cat lover in town and he calls himself 'Crazy Cat Dude.' Dave Kaminski never imagined that he would own six cats but then again, life works in mysterious ways and circumstances have led to just that. Kaminksi explains that it all started with two cats, until he fell in love with a woman who owned three of her very own kitties. The two then got married and decided to add one more rescue cat to the brood. Well as it turns out, marriage doesn't always work out the way one plans and after a divorce, Kaminski suddenly found himself as the owner of six cats. 
Kaminski explained that his 'golden rule' was to only ever have two cats. However he adds, "then it happened, and almost instantly I learned my golden rule wasn't very golden." Today Kaminski lives happily, somewhere in the midwest, with his six cats named Boo, Samaire, Bug, Pappa, Vinnie and Lacy Jane, who range in age from 6 to 12. The proud cat father reveals that he has had two of the cats for six years and the rest for a just over three years. 
Despite the amount of feline's living under one roof, Kaminski says that there is rarely any conflict and that they all seem to be quite happy with their arrangement. He adds that people always act surprised when they hear that all of the cats get along. For anyone interested in seeing what the day-to-day looks like for Kaminski, you can follow him and his kitty family on Instagram @sixcatsonedude. To-date, their little family has already amassed a 21,000 person following. 
References