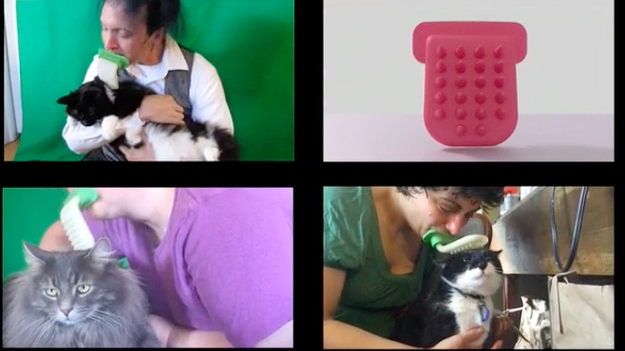 PORTLAND, Ore. — Have you been wanting to develop a stronger bond with your cat? Well according to the people behind the Licki Brush, all it takes is this product. The Licki brush was created as a means to improve your cats life and help you grow closer by allowing you to lick your cat, much like a mother cat licks her kittens. According to the product's Kickstarter campaign, cats lick each other as a form of social bonding, so now you can take your relationship to the next level. 
That's right, all you need to do is put the product in your mouth and then use the extended brush part to lick your feline friend.    In addition to bonding, it is also a meditative and "soothing experience" for both you and your cat. The Licki Brush is made of "a high-quality, soft silicone brush, designed to feel pleasurable to your cat's sensitive skin."While the experience is intended to be an enjoyable one, the website advises that you only approach your cat when he or she is sleeping or in a rather good mood. 
The companies Kickstarter page acknowledges that this idea came to fruition when they were thinking of ways to improve their cats lives. Eventually they created the idea behind mutual grooming and realized that there were some great benefits to the practice. The Licki Brush is currently raising money through Kickstarter and has raised $43,000 to-date. The site lists an estimated arrival date of January 2017. Would you lick your cat with this brush? 
References 
Via BuzzFeed|Kickstarter|