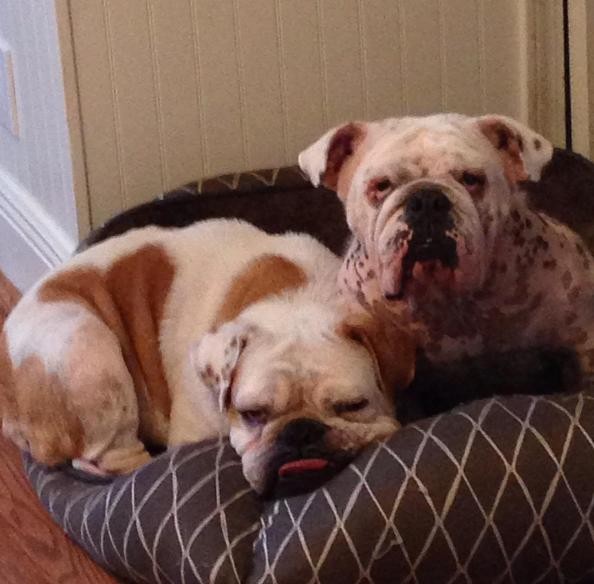 GRAPEVINE, Tex. — When the DFW Pug Rescue rescued 37 Pugs from a puppy mill, they did not expect to find multiple English Bulldogs crammed into cages. Among those Bulldogs, was a dog named Schnitzel, who after years of living in the deplorable conditions, was suffering from an array of health issues. The dog had visibly given birth to litter after litter, had Cherry Eye that had obstructed most of her vision, had "demodectic mange, a sensitive stomach, an infected tail that had to be amputated, infected ears, kennel cough and pneumonia." Needless to say, the dog was very sick.
Despite the long road to recovery ahead of Schnitzel, there was one woman who overlooked it all and instantly formed a bond with her. Ashley Helkenn and her husband Hans, were looking to adopt a dog for their Bulldog, Hummer, and Ashley was drawn to Schnitzel. While Hans was hesitant, Ashley managed to convince him that the sweet girl just needed some patience, love and a second chance. Lo and behold, she was right.
Although it took Schnitzel a while to warm up to her new family and get used to life outside of a puppy mill, she soon grew confident and comfortable in her new environment. Eventually, the family ended up adopting another English Bulldog named Bratwurst and together the three dogs now make a happy family. When Ashley was asked why she adopted such a sick dog, she revealed, "there was something about her I connected with. She had every reason to hate people and want to lash out at them, or to be so filled with fear that she couldn't trust people. But she wasn't like that." May the rest of Shnitzel's life be filled with nothing but love, joy and lots of treats!
References