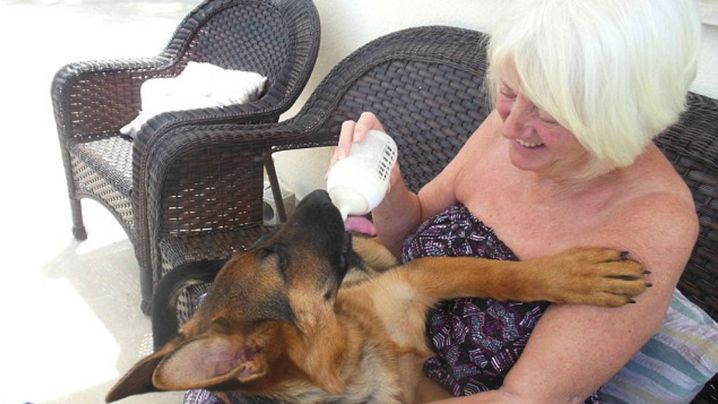 KENT, United Kingdom — While it's common for dogs to learn behaviours from their humans, one German Shepherd puppy has taken it a step further by believing that she actually is a human baby. Owner Iris Armstrong says that the pup named Karma, started to mimic her grandson Kayden when she was just twelve-weeks-old. Now at five-months-old, the pup sucks on Kayden's pacifier, jumps into his pram, tries to drink milk from his bottles and snuggles up with the toddler every time he visits. 
Armstrong reveals that Karma "first started with dummies at three months old, it was a little pink one that she pinched it from the side and just sat there suckling on it like a baby." She also sometimes takes a bottle filled with milk and begins to chew on it to try and get the milk out but Armstrong acknowledges that she doesn't let her do it too often. Although Karma is getting a little too big for the pram now, she still manages to squeeze into it for occasional naps.
Armstrong also added that Kayden and Karma frequently behave like brother and sister, taking naps together and playing. She explained that when Karma misbehaves, she puts her into a children's playpen for a timeout. Yet, every time Kayden is over she jumps straight over to play with her best friend.  Take a look at the adorable Karma in the gallery above. 
References